"
What makes Bell, Book and Candle special is I get to personally deal with every person who comes in. I get to know them, I find out about their problems, their needs. Middleton's my little corner of the world, I like it like that.
"

— Cassie about Bell, Book & Candle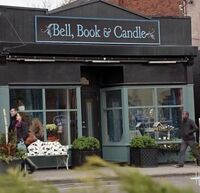 Bell, Book & Candle also referred to "Bell Book or "The Bell Book" is an eclectic shop located on Main Street in Middleton. Cassie Nightingale opened the shop shortly after she moved into town. While the store wasn't originally embraced by the town, they came around and began to love the shop. It is now one of the most popular stores in Middleton.
History
The store was founded in 2008 and has currently been open for thirteen years.
Staff
Notes and Trivia
In the movies, Cassie's shop number is 71.
It is a major location in both the film series and the TV series.
Bell Book can be classified as a new-age shop.
It was founded and opened in 2008 after Cassie moved to Middleton and has been open for thirteen years[1].
Jake Russell was the store's first official customer.
Martha Tinsdale was one among the first townspeople to check out the store, although, she didn't buy anything and knocked over a display.
The store sells lotions, oils, soaps, and numerous other items. Cassie often uses her gift of intuition to sense which item a customer needs at the time.
Cassie almost lost the store when a realtor bought her location and planned to sell it to a chain coffee store. However, she was able to keep the store and her current rent thanks to the help of Ryan Elliott.
Cassie is rarely seen charging customers for the products she recommends them.
Behind the Scenes
Bell, Book and Candle is a 1958 film starring a good-intentioned witch. The store was deliberately named after the film as a way to pay homage to it.
The original set for the shop was torn down after "The Good Witch's Wonder", so the crew decided to rebuild it bigger and brighter.
Over the show's history, there have been five exteriors for the Bell, Book & Candle. The interior of the shop is on a soundstage at the studios where the show films.
Gallery
References
↑ Cassie opened the shop in 2008. Grace, aged eighteen in Season Five, was born four years after it opened. This means the shop has been open for twenty-two years as of Season Five.