Donovan Davenport is a recurring character in Season 5 and Season 6 of Good Witch.
Donovan heirs from the Davenport family of Blairsville, the rival town of Middleton. His competitive relationship with Abigail during her stint as Mayor eventually becomes romantic, though their relationship is tested by an ancient curse on their family lines. Together, they work to break the curse with the help of Cassie Nightingale, Sam Radford, and others.
Biography
[
]
Donovan is son of Davis and Dotty Davenport. They are a well-respected and prominent family in Blairsville. He ran for Mayor once prior to his election but lost the votes to Darryl Blankenship. He was devastated after, which is when he rescued Klondike, who had been abandoned by his owner. Donovan claims that they rescued each other.
Series
[
]
Donovan's tumultuous and complicated relationship with Abigail Pershing consumes most of his life. With the Merriwick-Danveport curse looming over them, they face several hardships and setbacks. He also desires to climb politically hoping to one day become Governor, a trait his father encourages. Donovan also begins to develop a friendship with Martha Tinsdale and Sam Radford, who helps the couple break the curse. Abigail's newly discovered cousin, Joy Harper, has the ability to see potential events in her dreams. Because of this, Abigail begins to think about her dreams and confides in Donovan that she wants to live in Tuscany which creates friction as he wants to move up politically which requires him to stay where he is. He confides in Cassie about feeling torn, to which she guides him in her way. Before he leaves, an Italian coffee box falls into his hands.
Donovan and Abigail bring Joy into the curse-breaking which brings Donovan closer to Joy. Abigail and Donovan continue to search for clues, and their hunt takes them all over Middleton where they are able to discover a mysterious monocle that is actually a cipher. They just have to find another piece that has letters around it that they can decipher. Joy confronts Abigail having had one of her dreams that featured Abigial and Donovan breaking up under a crescent moon. Naturally, her relationship with Donovan has been strained lately so she grows anxious that Joy's dream might come true. The couple is forced to end their relationship when they notice the Heart of Middleton is almost cracked completely through.
The breakup is devastating for both of them, and Donovan takes it particularly hard. So much so that his mother notices and shows her support for the couple for the first time since they started breaking the curse. Because of this, he is able to reconcile his relationship with Dottie. Abigail continues to discover clues and questionable things that could be connected to the curse. She shares her updates with Donovan who wants to draw her close, but she refuses his advances. They have 200 years' worth of Merriwick history to sift through before they can reconnect.
When Abigail returns to Middleton with a new perspective on her life, Donovan has to tell her that the ruby heart is cracked almost entirely through. They build a crime board in the last effort to break the curse, or they might never be together no matter how desperately they desire to be. He reassures her that he loves her and always will. Abigail and Donovan decide that they are done with the curse and want to enjoy Martha's party at the newly renovated house, even though it is where the curse began. It is there that Sam discovers a final clue in the curse, and the dove Joy's mother left her is connected to the curse.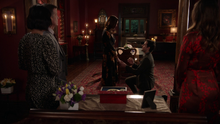 When Joy opens the dove the Middleton Diamond is inside leading Martha to bring the Middleton Treasure box to the anxious couple. They place the diamond inside and the box closes itself, and Donovan cautiously asks if she can say "'I Love You'" yet. She still can't. They are about to give up when then the box starts playing, and another drawer opens, containing an engagement ring. It's the ring Roderick used to propose to Patience. Donovan grabs it and proposes to Abigail. He wants to spend the rest of his life with her and won't let anything keep them apart. Abigail says, "yes" and finally, "I love you." Joy smiles stating that this is what happens when a curse finally breaks.
Personality
[
]
Donovan is charismatic, charming, outgoing, and flirtatious. He enjoys adventure and living life to its fullest. When it comes to his town, Donovan is protective. He knows how to navigate the world of politics, something that initially put him in direct competition with Abigail Pershing, the than-Mayor. When she handed the Mayoral title back to Martha Tinsdale, Donovan visited Middleton and asked her out. He has since been shown to be caring, devoted, and attentive. He enjoys having fun and unpredictability, which makes him the perfect partner for Abigail.
Physical Appearance
[
]
Donovan is a handsome man in his thirties or forties with wavy black hair and brown eyes. He has minimal facial hair and a charming smile. He is usually seen in professional attire that matches his job as the Mayor of Blairsville. When he's not working, Donovan dons a leather jacket, jeans, and a black shirt. He used to ride a motorcycle before his accident.
Appearances
[
]
Notes and Trivia
[
]
Donovan believes in the power of curses, which is why he didn't initially ask Abigail out on a date.
His favorite chocolates are the ones with cherries in the middle.
He has a rescue dog named Klondike.
He is allergic to Asprin.
He squeezes the toothpaste from the middle as opposed to the top or bottom.
Gallery
[
]
References
[
]