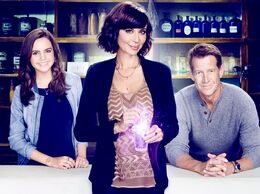 Good Witch is a Hallmark Channel original American drama television series that is based on the made-for-TV movie series. The series premiered with 2-hour episode on February 28, 2015, and is slated for an eight-episode run with both the premiere and finale episodes are 2 hours.
Plot
This fantasy dramedy TV show is based on the series of made-for-TV-movies of the same name.
Widowed Cassandra "Cassie" Nightingale (Catherine Bell) is a good-hearted enchantress who lives in the quaint small-town community of Middleton. She lives with her young-teenage daughter Grace (Bailee Madison), who shares the same special intuition and gifts as her mother.
Their lives get even more interesting when curmudgeonly and divorced doctor Sam Radford (James Denton) and his troublesome son Nick (Rhys Matthew Bond) move in next door to Grey House from New York. They are immediately spellbound by the mother-daughter duo next door, but Sam and Cassie quickly find they don't see eye to eye.
Stephanie (Kylee Evans), the owner of a local bistro, is smitten with the town's, new doctor. George O'Hanrahan (Peter MacNeill) is the father of Cassie's late husband's late first wife, — whom Grace calls Grandpa — and new police officer Brandon Russell (Dan Jeanotte) is Cassie's step-son. Martha Tinsdale (Catherine Disher) is the town's mayor and Derek Sanders (Noah Cappe) is the chief of police.
With her signature charm, Cassie attempts to bring everyone together, ensuring all of Middleton is in for big surprises and a little bit of magic.
Production
Originally introduced as a television movie series on Hallmark Channel, The Good Witch became the most popular and highest rated original movie series on the network. After an astonishing eight movie run, the network announced that they would be adapting the show to a Primetime television series. The official announcement and press release came out on July 14, 2014, with the network announcing that Season 1 would have a ten episode order with a slated 2015 premiere.[1]
Shortly after the series announcement, Good Witch veteran Chris Potter (Jake Russell) was unable to return for the television series, which led to Potter's character "Jake" being killed off, and a seven-year time jump implemented.
Several cast members from the movie franchise were announced to be returning for the television series. They included, main star Catherine Bell (Cassie Nightingale), and recurring cast members Catherine Disher(Martha Tinsdale), Peter MacNeill (George O'Hanrahan), Hannah Endicott-Douglas (Lori Russell), Noah Cappe (Derek Sanders), and Paul Miller (Tom Tinsdale).
In Hallmark Channel's official press release[2] and series announcement, Bailee Madison was linked to the series immediately, but her role was kept under the wraps for several weeks. She was later revealed to be playing Cassie and Jake's daughter, Grace, who shares the same special gifts and intuition as her mother. The third and final main character role was given to James Denton, who would be playing Dr. Sam Radford.
The new recurring cast was then made up of Rhys Matthew Bond as Nick Radford, Dan Jeanotte as the now adult Brandon Russell, Anthony Lemke as Ryan Elliott, and Shane Harte as Anthony.
For Season 2, Ashley Leggat was announced to be returning as Tara Russell with Shane Harte and Anthony Lemke not returning.
Cast
Starring
Co-Starring
Seasons
Awards and Nominations
Year
Type of Award
Name of Award
Recipient(s)
Status
2015
The Joey Awards, Vancouver
Best Actor in a TV Comedy or Action Featured Role
Rhys Matthew Bond
Nominated
2015
Directors Guild of Canada
DGC Craft Award
Sound Editing - Television Series
Alex Bullick (SFX Editor)
Nelson Ferreira (Dialogue Editor)
John Douglas Smith (ADR Editor)
Rose Gregoris (1st Assistant Sound Editor: For episode 101, "Starting Over...Again")
Nominated
2018
ASCAP Film and Television Music Awards
Top Television Series
Good Witch cast
Michael Berec (composer)
Hallmark Channel (network)
Notes and Trivia
The official Good Witch Pinterest board can be found here
Approximately ten years have passed since the events of "The Good Witch's Wonder".
Chris Potter was unavailable for the series, which led to the introduction of James Denton's character and the death of Jake.
Hallmark approached Catherine Bell after she finished filming Army Wives in the hopes that she would accept their offer to turn the movie franchise into a TV series, and she graciously accepted.
Catherine Bell's favorite part of the show is that her kids can watch it and so can other adults. This is due to the lightness of the show and the fact that people can watch it and feel better at the end of the show.
The original Bell, Book & Candle set was torn down, so the crew rebuilt it as a bigger and brighter set.[3]
The crew also rebuilt Grey House as a set, due to the original filming happening in an actual house in Hamilton. The house in Hamilton is still used for exterior shots.[4]
The Grey Lady painting was redone for the series.[5]
Gallery
External links
References