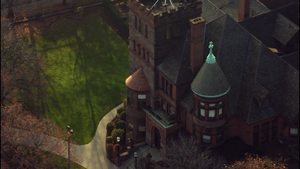 Middleton City Hall is the administration building for the local government of Middleton at 1875 Main Street. City hall also holds the Middleton Police Department and the Mayor's office.
History
[
]
City hall was built in the 1700s when Nathaniel and Meredith Merriwick founded Middleton. They hid the old charter in a secret alcove in the city hall.
In "Starting Over...Again", Middleton honors fallen police chief Jake Russell by dedicating a wing at city hall to him.
In "The Storm" and "Together We Stand...", a massive snowstorm results in a city-wide blackout and frenzy. Mayor Tinsdale and Police Chief Derek Sanders are trapped in city hall until the storm passes.
Government Workers
[
]
Middleton Police Department
[
]
Main article: Middleton Police Department
The Middleton police department is the only law enforcement group in the quaint town of Middleton. The police department has strong ties to the community and often patrols the town and solves cases rather quickly.
Police Workers
[
]
Notes and Trivia
[
]
The password to access all of the computers is: "password". Mayor Tinsdale wanted a password that she could remember.
The archives are located in the basements of the buildings. The doors are never locked because Mayor Tinsdale is always losing her keys.
A clue to finding the Middleton Treasure is on the stained glass windows of the city hall.
There is a secret safe in the Mayor's office behind a painting. Martha didn't tell Abigail about the safe during her stint as Mayor.
The Mayor's quill is stored on the desk of the sitting Mayor and has been used for various historical moments throughout the towns history.

It was used to sign the movement that declared Grey House a historical landmark.
It was used to do-away with flattening coins on the train tracks in 1868.
It was used to sign an ordinance to ban hats in the Middleton theater in 1868.
Gallery
[
]