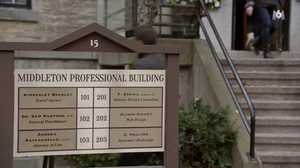 Radford Family Practice is the only medical family practice in Middleton. At first it was in a storefront clinic next door to Bell, Book & Candle. Later it moved into the Middleton professional building. Dr. Sam Radford owned and ran the practice until he became the chief of staff at the Hillcrest Hospital.
History
[
]
Dr. Sam Radford moved to Middleton from New York City to make a fresh start for him and his son. Mayor Martha Tinsdale offered him what she described as a state-of-the-art medical practice. When he arrived, the practice was anything but what she had said. He did what he could with the practice, and he felt surprised when his new neighbor, Cassie Nightingale, was the owner of the store next to his clinic.
After a while Sam outgrew the small space, so he moved his practice into the Middleton professional building. His larger office allows him to treat more patients more effectively.
Staff
[
]
Current Staff
[
]
Dr. Sam Radford (Owner: Doctor)
Eve (Receptionist)
Dr. Bernard Cantwell (Original Building Owner/Doctor: retired)
Former Staff
[
]
Notes and Trivia
[
]
The practice treats most Middleton residents, as it is the only family practice is the town.
The original location was previously known as "Dr. Bernard Cantwell Medical Center" and was described as "Family Medical Specialist and Walk-In".
Gallery
[
]