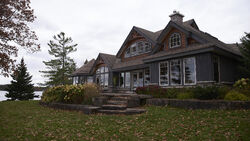 The Radford Lake House is a house owned by Sam Radford. The house is located in the wooded area just outside of Middleton on the edge of a lake. He bought the cabin so that he and Nick could spend quality time together away from the town.
History
[
]
In "A Perfect Match", Sam visited the lake house with Cassie, who was there to help him assess the house since her work with renovating Grey House made her especially qualified. Sam wanted to purchases the lake house as a place for him and Nick to spend more time together and outdoors.
Cassie, Grace, Sam, and Nick, visited the house for the first time in "Family Time".
Visitors
[
]
Notes and Trivia
[
]
Gallery
[
]