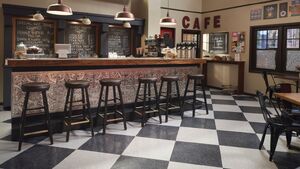 The Bistro Café is an eating establishment located on Main Street in Middleton. The bistro sells coffee, sweets, and a wide variety of other menu items. The cafe is a central location for many Middleton residents and is always busy with customers.
The Bistro Café is owned by Stephanie Borden.
History
[
]
The cafe first appeared in 2015 and was owned by a young entrepreneur woman, Stephanie Borden. The cafe seems to be the hotspot of Middleton and the main place to get coffee or lunch. It is recommended for many tourists to visit.
The cafe launched its catering expansion business a few years later.
After the success of the cafe, Stephanie planned to expand her business into a food truck. Vincent helped her find the perfect truck within her price range. He helped her restore it and became an investor and partner in the business. Soon after the food truck was ready, Vincent left Middleton and went out to sea. Adam helped Stephanie manage it. The success of the food truck caught the attention of food critics and a blogger, Lisa Gold. She gave the truck a glowing review, which attracted more people. Adam and Stephanie eventually decided, as Cassie suggested, to combine their Monte Cristo sandwiches, and they became famously known for them. As the business grew, Vincent told Stephanie she deserves a business partner who is present. He then sold his shares to Lisa Gold.
Staff and Employees
[
]
Current
[
]
Former
[
]
Notes and Trivia
[
]
In the movies, the cafe was called "The Espresso Café".
In the season seven premier Stephanie mentioned that she has been the owner of the Bistro for 15 years.
Gallery
[
]