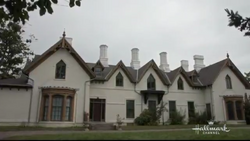 The Tinsdale House is the current residence of Middleton Mayor Martha Tinsdale and her husband, Tom. The house is the second oldest in Middleton, only following Grey House. The home was previously owned by Roderick Davenport.
History
[
]
In 1818, Roderick Davenport built the house in Middleton for him and his soon-to-be bride, Patience Merriwick. Patience ran off with William Spry instead of following through with their betrothal. Roderick became a recluse and spent much of his time in a secret library he build in the home. He wrote Patience a letter warning her of the curse he had now placed on their respective lines, the Merriwick-Davenport curse.
Series
[
]
In "The Anniversary", Martha wanted to buy a new house and turn it into the Mayor's mansion. She settled on the former house of Roderick Davenport. She planned to buy the house from the owner, Mr. Vandercleef. She was shocked to learn that Dotty Davenport was also interested in buying the house. The two women soon entered into a bidding war. Dotty thought the person who the most zeroes at the end of the check would win, while Martha went for a personable touch with a letter. Martha also met the contractor looking to renovate the house for her, Joy Harper.
When a slew of clues led Abigail Pershing and Donovan Davenport to the home, they were surprised to find footprints leading to the shelves in the library. When they placed Great Expectations on the shelf, it opened a secret door. Martha and Joy were trapped inside, having come through the pantry. The wall in the pantry opened and when the women went through they were trapped. However, their presence didn't explain the footsteps that led to the library. Moments later, Mr. Vandercleef and Dotty arrived in the library. Mr. Vandercleef was unaware of the room's existence but was thrilled to find rare musical instruments inside. Grateful to Martha for finding it, he decided to sell the house to her. Martha later hired Joy to be her contractor.
Residents
[
]
Current
[
]
Former
[
]
Roderick Davenport (Deceased)
Mr. Vandercleef (Sold to Martha)
Notes and Trivia
[
]
It is the second-oldest house in Middleton following only Grey House.
It is the official Middleton Mayor's mansion.
Joy claims that the house is under-isolated.
Because the curse was born in the house, Abigail didn't have any desire to kiss Donovan while inside. She also felt lost in the house and didn't have her usual gifts of intuition.
Gallery
[
]